(Cross-posting this one to both here and morgan_gw, but the rest of these will only be on this one.)
As I've noted a couple of times during past holiday seasons, one tradition I've had for many years was to buy an ornament each year to commemorate something significant that happened that year. At first, socialization being what it is, they were noted as Christmas ornaments, but as the years passed I started calling them Yule ornaments. Either way, the tradition has withstood a couple of significant changes in household.
My intent is to make one post per day, describing the ornaments for a given year. I'll start with 1981, the first year I did this, and continue through 2008's ornaments. Some years are pretty sparse, because nothing significant of personal interest happened that year so the ornament is for something general. Other years, the story will be longer and more personal.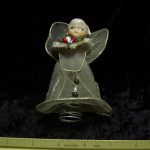 I'll also use today to make a note of one "ornament" I've had, in a sense, all my life. It's a little angel that was used as a tree-topper for most of my childhood. Mom says it's been around a long time; she doesn't remember when they got it but it probably dates to the late 50s. There wasn't anything particularly special about it at the time, but now I keep it because it goes back to my earliest yuletide memories.
[ed. note: Old image at http://pics.livejournal.com/morgan_gw/pic/0005wkc9 (now http://ic.pics.livejournal.com/morgan_gw/2091536/41600/41600_original.jpg
Leave a Reply
Due to excessive spambots, you must be logged in to post a comment. Guests may log in with username and password *guest*.