Taken from an email I got from my Dad, which he got from my sister, which she got from our local historian John Adams.
Photos and ads of Rialto businesses in 1959-1961

1. Benjestorf's and MacKown's studio

2. Clark's Radio and TV and Kelley's Mobilgas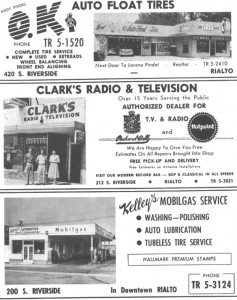 3. Fon Ri Lanes

4. Golden Bull Steak and Chop House and Myr-Wood Restaurant. R.W. (Woodie) Gillete, the chef and owner of the Myr-Wood Restaurant, is standing in front.

5. Kolb and Davis Custom Meats. Ben Kolb Sr. is at left.

6. Owen's Rialto Pharmacy

7. Rialto Friendly Market and Rialto Lumber Co.

8. Tony's Taco Teria and the Cottage Inn. (That's what the text said, but the image is for the Chevy dealer.)

Leave a Reply
Due to excessive spambots, you must be logged in to post a comment. Guests may log in with username and password *guest*.